Method Videos
Set yourself apart
What sets The Morse Group apart is our approach. We look at leadership and organizational challenges as opportunities to help people think differently and create adaptive actions. We understand that each person and organization has untapped potential and we help to enable it through our proven Morse Group  structure, SOCit™ Business Professional Services and Sprint Ahead methodologies.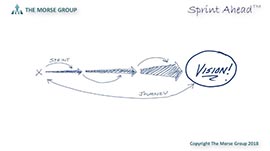 SPRINT AHEAD
Identify your future and create a pathway to reach it through adaptive, balanced methods with aligned and inclusive solutions. Click Here to Watch Full Video.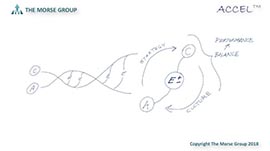 ACCEL
Analytic/Creative Cycles of Energy Leadership is a wholistic approach to assist leaders in enabling themselves, their team and their organizations to create the outcomes they envision to go beyond the status quo and exceed expectations. Click Here to Watch Full Video.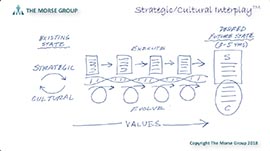 STRATEGIC/CULTURAL INTERPLAY FRAMEWORK
A simple, agile and comprehensive plan that allows leaders to engage their organizations to own the path forward. This is a living document that gives leaders and teams an agile way to navigate their journey that infuses culture with strategy. Click Here to Watch Full Video.
Take One Videos
Where we Learn from Industry Experts
Part of what makes The Morse Group successful is that we never stop learning from others. Our Take One Videos go in-depth with strategists, big thinkers and innovators in their area of expertise to uncover new approaches and unique angles to today's business challenges. These one-on-one videos explore and dissect how innovative thinking can be applied in any organization.
SEO & Digital Marketing with John Bracamontes
Explore John's work on SEO work and Digital Marketing and how to connect to ROI.
The Global Engineer with Victor Perf
Explore Victor's work in the area of engineering and leadership to see what success requires in the global business environment.
Technology Driven Strategy with Bill Lay
Explore Bill's work on how technology is the new strategy lens and its impact on business futures.
Innovation Leadership with Greg Ames
Explore Greg's work on linking innovation and leadership.
Embodied Leadership with Lissa Pohl
Explore Lissa's work on how leadership is embodied by individuals and its impact on others.
Hear Directly From Our Clients
"I have been closely associated with Stuart in a number of organizations over the past 4 years. I have had the opportunity to observe, appreciate, and admire his creativity, organizational capabilities, interactions with a wide variety of individuals, his passion for his work, and consideration and compassion for those he works with. I respect his intelligence, expertise, decency, planning and organizational skills, sense of humor, and ability to have fun at what he does and the people he works with….attributes which make him effective at what he does and enjoyable to work with."
– CHESTER STROBEL, RETIRED PHARMACEUTICAL EXECUTIVE