About The Morse Group
People Matter.
We build trust, awareness, and clarity of purpose with intention through active listening and honest conversations that bring out the best in organizations and their people.
We Live our Values.
Curious        Creative        Empathetic             Equitable
Humble        Inclusive       Open-minded        Respectful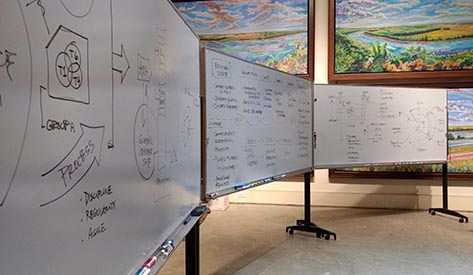 At The Morse Group we like to say that "we were created by leaders for leaders".
Over three decades ago, founders Stuart and Stacey Morse were approached by forward thinking leaders or 'Change Agents' with the challenge to explore new ways to create greater value across leadership, strategy and culture.  Through numerous discussions in the Morse Studio (a creative think tank environment), current leadership challenges were juxtaposed against traditional business practices to explore innovative thinking and create new methods to gain better results.  Solutions were piloted in real-world scenarios with new outcomes, insights and learning that evolved as the foundation of our work and informed the development of The Morse Group structure, SOCit™ Business Professional Services, and Sprint Ahead methodologies.
Our relationship with a diverse network is continually growing and evolving to address the ever-changing challenges  leaders, teams and organizations face. We typically work with companies and leaders who strive to go beyond the "status-quo" and aim to exceed expectations. The Morse Group is different because we think of people and business challenges "wholistically". Clients continually ask us to help their people and company to "get unstuck", "see the art of the possible" and "accelerate". We achieve this by bringing the company's value creators (structures, processes and metrics) together with their value enablers (leadership, engagement, story). We take a balanced, analytic/creative approach across the spectrum of how our minds see, think, and take action.  This approach allows greater understanding and intent to the strategic direction that is needed in partnership with how to enable the culture to help them get there. Our proven methodologies address the "whole" challenge and drive the team to see, think, and act differently. The transformation enlists a broader set of skills and points of differentiation to drive greater alignment, focus, ownership and performance.
The Story of the Dry Erase Marker
The dry erase marker, and its trusted environment of the whiteboard, has become a signature of The Morse Group. Anyone who has engaged with The Morse Group will have spent time on a whiteboard to explore their thinking in a wholistic manner. The true power of ownership of ideas and concepts, is how people are visualizing what is being communicated to them through language or words. People act on the imagery or vision that the words trigger in their minds. We have experienced situations where there were misaligned actions and uncertainty because a word was used that was visually interpreted differently by everyone. Just as the quote states "a picture holds a thousand words", we have found that "one word holds unlimited pictures".
Therefore, it's imperative to explore what people are seeing. The whiteboard and dry erase marker are excellent tools for this and are more agile that permanent markers and flip charts. The powerful attribute to the dry erase over a permanent marker is it allows the operator to be fully transparent with others by giving the ability to change one's mind and explore adjustments and alternate options in the moment. Permanent marker and flip charts of paper can be clumsy at this causing awkward constraining moments when one person's thinking is trying to shift while another person is unable to let go of what can't be erased or removed from the dialogue.
Additionally, the dry erase marker is a symbol and conveyor of trust. Allowing to trust what they are thinking and offering an open dialogue where everyone can change their mind in midstream if they wish.
These traits of the dry erase marker are such a key aspect of The Morse Group methodology, that it is our business card.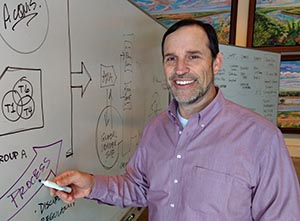 About Stuart
Stuart Morse is the Principal lead at The Morse Group. His experience as an artist, engineer, coach and business leader drives the unique approach that The Morse Group brings to all business and leadership development challenges. Stuart is often described as an organizational and team coach with a balanced approach of analytic and creative methods that produces greater results across strategy and culture. His focus is to enable leaders to take people to the next level of performance and exceed expectations.
Stuart is uniquely qualified in this area as he has lived, worked and studied the dynamics of the human condition and mind in both highly analytic and creative environments. He has successfully designed, built and created solutions in both arenas from engineering to fine art.
This broad scope of experiences is grounded in a multi-cultural consciousness that stems from his international upbringing living in Spain and Iran as a youth. This has created an awareness and continual focus on embracing the power of diverse perspectives as a key enabler in his work with leaders and companies.
Seeing the world as an intersection of complex variables across people and business has allowed Stuart to create The Morse Group philosophy that embraces the strengths of the analytic and creative for a wholistic approach to gain better results for leaders, teams, and organizations.
The essence of The Morse Group methods and processes grew out of the time Stuart spent working in his art studio creating very large fine art paintings. Pushing creativity at this scale required the support of the engineer in Stuart. It required him to put processes and methods in place to engage his analytic mind in partnership with his creative mind to be able to engineer creativity to succeed on a large scale.
Similar to how Stuart addresses his large paintings, he approaches business challenges by managing scale. Simplifying the challenge helps to 'get inside' the essence of what you are trying to achieve, and creates a central guiding vision to drive a successful outcome. He says, "anyone can paint a 1-foot square, but when that space is much larger, you must change your approach and 'get inside'." This is similar to how he views large business challenges. To allow himself to see the whole challenge, he addresses it from both a rational and emotional vantage point and coaches his clients to do the same.
A key tool that Stuart has also learned to use is the dry erase marker and whiteboard. These are essential to open up people's minds and allow for more agile discussions. He calls the dry erase marker the ultimate tool because you can "easily erase, elaborate, hand to others to build on your idea, etc." Stuart has a mobile dry erase board that he will bring with him when the location does not have one of its own.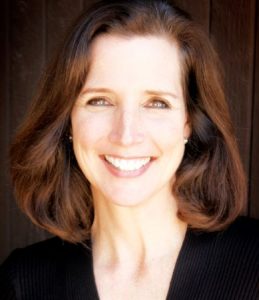 About Stacey
As an entrepreneur with a background rooted in the arts, Stacey has developed a unique brand using an analytic and creative approach to deliver solutions to a diverse network of clients. Through consulting projects and leadership roles, she works to help community leaders, nonprofit organizations, educators and businesses realize their growth opportunities and meet new challenges with effective strategies and systems to deliver the greatest impact.
Stacey has taken the methods developed by The Morse Group to empower people, teams, and organizations to lead and co-create balanced solutions that address the needs of the community. Her work helps individual donors, companies and nonprofit organizations come together in more effective ways to gain clarity around the challenges and opportunities we face in the world today with new thinking focused on shared purpose to drive results. The process relies on developing an aligned view of what success can look like for all stakeholders coupled with community investment strategies that leverage financial and in-kind resources, pro bono expertise, and the collective power of people and their networks.